Want To Get Race Updates?
Get updated regularly on what's current with FCP Euro in IMSA, Formula Drift, and GRIDLIFE, as well as chances to win free SWAG and event tickets.
Latest FCP Euro Motorsports News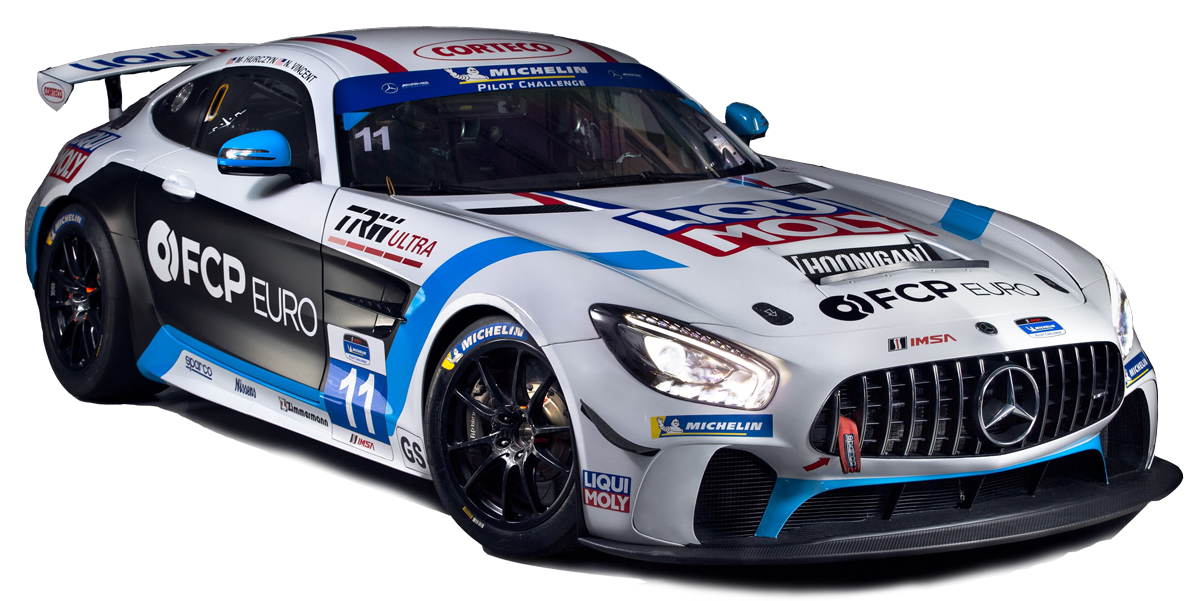 2020 MERCEDES AMG GT4
2020
MERCEDES
AMG
GT4
Technical Specs
AMG 4.0-litre V8 biturbo engine 510hp/442 lb-ft torque
Aluminum space frame w/ carbon-fiber-reinforced plastic (CFRP) front bumper, fenders, hood, carbon-fiber rear wing
Weight- 3,650lbs
Top Speed- 165mph
Sequential AMG 6-speed rear transaxle transmission w/ externally adjustable differential
AMG GT3-derived adjustable ABS & AMG traction control
18x11" AMG forged alloy monoblock wheels
305/660-18 Front / 305 /680-18 Rear Michelin Pilot Sport racing slicks
6-Piston AP Racing front brake calipers w/ 390mm discs
4-Piston AP Racing rear brake calipers w/ 355mm discs
Double wishbone front/rear suspension w/ KW Competition adjustable dampers (by homologation) and adjustable front/rear anti-roll bars
The Team
Since its humble beginnings 5 years ago, FCP Euro has established itself as a force to contend with in the racing world. Led by FCP Euro's Director of Motorsports, Nate Vincent, the team quickly established itself in the grassroots racing scene. Using the same guiding principles and core values as the e-Commerce company, the team moved into professional racing bringing along the excitement, experience, and staff from our grassroots experience.

Meet the Car
The 2022 motorsports season is quickly approaching for the FCP Euro Motorsports crew. At the beginning of 2021, we said goodbye to our championship-winning VW GTI TCRs and said hello to the next step in our motorsport career - our Mercedes-AMG GT4 race cars that we will be campaigning in the IMSA Michelin Pilot Challenge.
A Special Thanks To Our 2022 Partners
It takes a great team to compete at the highest level. FCP Euro is supported by LIQUI MOLY, TRW Ultra, Corteco, Zimmerman, Nissens, Sparco, and Hoonigan.

false
Why Start A Race Team?
Yes, FCP Euro sells European Car Parts online, but this isn't your average parts counter. The employees are also gearheads, weekend warriors, and enthusiasts, just like its customers. To be a go-to source for European car parts, you need to be a part of the community you serve. FCP Euro is proud to have the in-house talent to be able to do well in racing and in business.
The FCP Euro Motorsports program began in 2016 with a BMW E30 we campaigned in AER (American Endurance Racing) with the goal of growing FCP Euro's BMW catalog while having fun along the way. Fast forward to 2019 - in our 2nd year competing in the TC America series with 2 VW GTI TCRs, we were able to work hard enough to take home the Team, Driver, and Manufacturer Championship. Now, we plan to join America's premier Motorsport series - IMSA - piloting the #11 Mercedes AMG GT4 in the Michelin Pilot Challenge against some of the best teams and drivers in the world. We welcome you to join us in this next chapter as we share our experiences and insider info with you, while (hopefully) continuing to have fun along the way. Now, let's all sit back and enjoy the world-class machine that is the Mercedes AMG GT4.