2016 Season - BMW E30/ Mercedes C300
FCP Euro Motorsports officially began in 2016, racing in the grassroots American Endurance Racing (AER) series. The team started with an existing BMW E30 325i that had been built and campaigned by Brand Director/Drive Michael Hurczyn before the team was officially formed. Now including Director of Motorsport/Drive Nate Vincent, the team, comprised of Hurcyzn, Vincent, BMW Catalog Manager Gareth Foley, as well as numerous other employees, built a Mercedes-Benz C300 from the ground up to compete in this competitive series.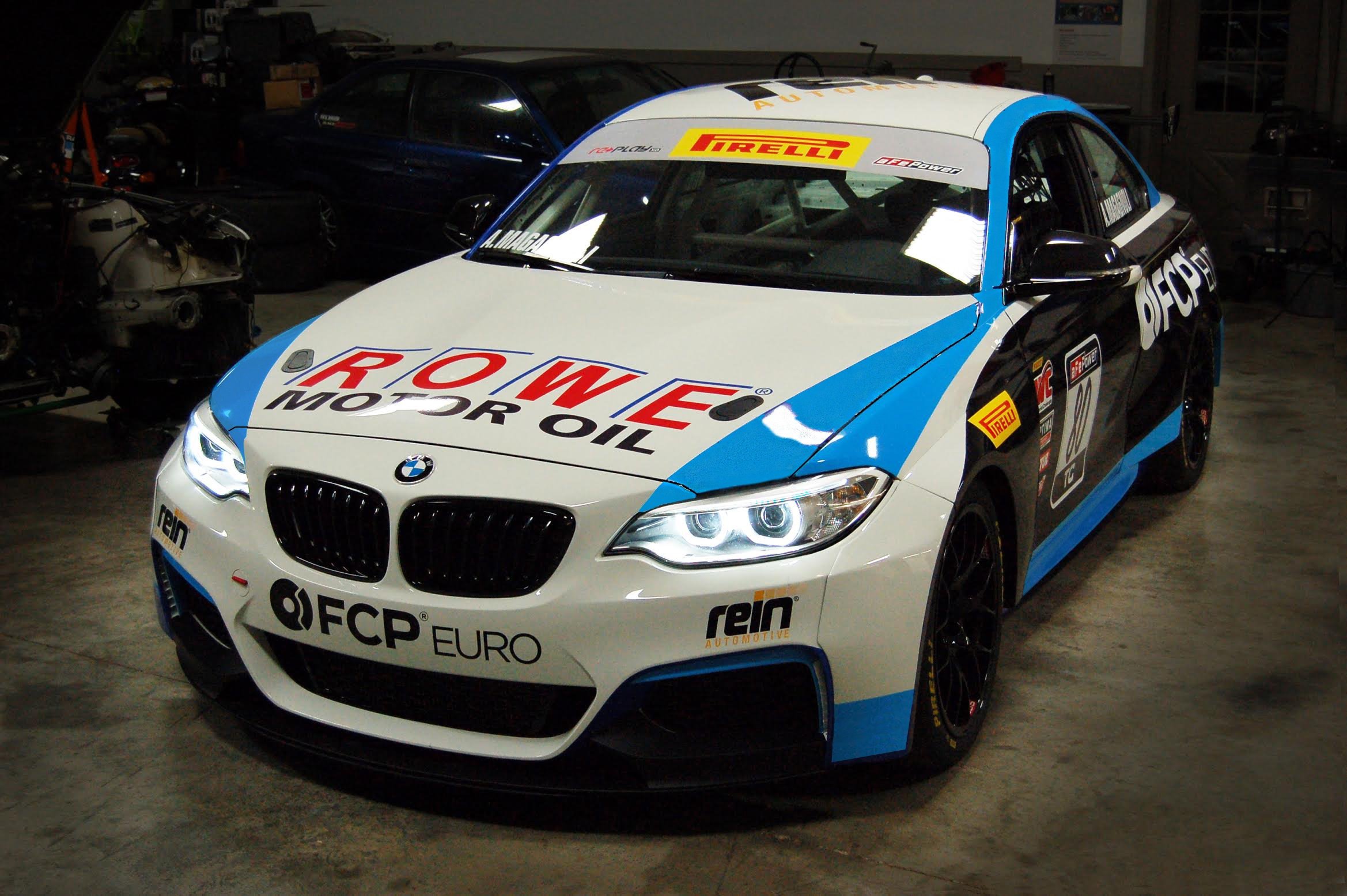 2017 Season - BMW M235iR
ROWE joins title sponsor FCP Euro in its partnership with Rooster Hall Racing for the 2017 Pirelli World Challenge season. Rooster Hall Racing, and its owner Todd Brown of Louisa, VA, are campaigning the 2017 Pirelli World Challenge 6-race Touring Car (TC) schedule with a BMW M235i Racing. The 2017 schedule includes races at some of the most iconic racetracks across the United States and Canada, including Virginia International Raceway, Canadian Tire Motorsports Park, Lime Rock Park, Circuit of the Americas, Miller Motorsports Park, and Laguna Seca. The car will be piloted by professional driver and coach, Anthony Magagnoli of DriveFasterNow.com, who resides in Dexter, MI.
2018-2020 Season - Volkswagen Golf GTI TCR
After numerous successes on track in AER, and adding sponsorship of the Rooster Hall Racing M235iR for the 2017 Pirelli World Challenge series, FCP Euro Motorsports moved to the pro level with two Volkswagen GTI TCRs in 2018. The team competed in the 2018 Pirelli World Challenge TCR Championship, and ultimately FCP Euro Motorsports finished third in the team championship, with Vincent earning Rookie of the Year, plus many lessons learned about what it takes to compete at this level.
In 2019, both GTI TCRs were converted to full racing sequential transmissions from their supplied street-based DSG transmissions. With the team and drivers more well versed in the series, now known as TC America, and the improved performance of the GTI TCRs, FCP Euro Motorsports went on to sweep the championships. Michael Hurzyn took the Driver's Championship, Nate Vincent finished runner up, and FCP Euro Motorsports also earned the Team's Championship and the Manufacturer's Championship for Volkswagen.
After a shortened 2020 season, FCP Euro Motorsports took the time to regroup and planned to move up to a new series yet again in 2021.
2021 Season - Mercedes-AMG GT4
In 2021 FCP Euro Motorsports will campaign a Mercedes-AMG GT4 in the IMSA Michelin Pilot Challenge Championship. This ultra-competitive series marks a return to Hurczyn and Vincent once again sharing a single car for longer races, harkening back to the early days of FCP Euro Motorsports and the AER program. With the IMPC series however, driver changes, pit stops and the overall level of competition will make for a complete new learning experience, forcing the team and drivers out of their comfort zones and pitting Team FCP Euro against some of the very best in North American road racing.
Latest FCP Euro Motorsports News
Want Race Updates?
Get updated regularly on what's current with FCP Euro in IMSA, Formula Drift, and GRIDLIFE, as well as chances to win free SWAG and event tickets.