SPECIAL THANKS TO OUR PARTNERS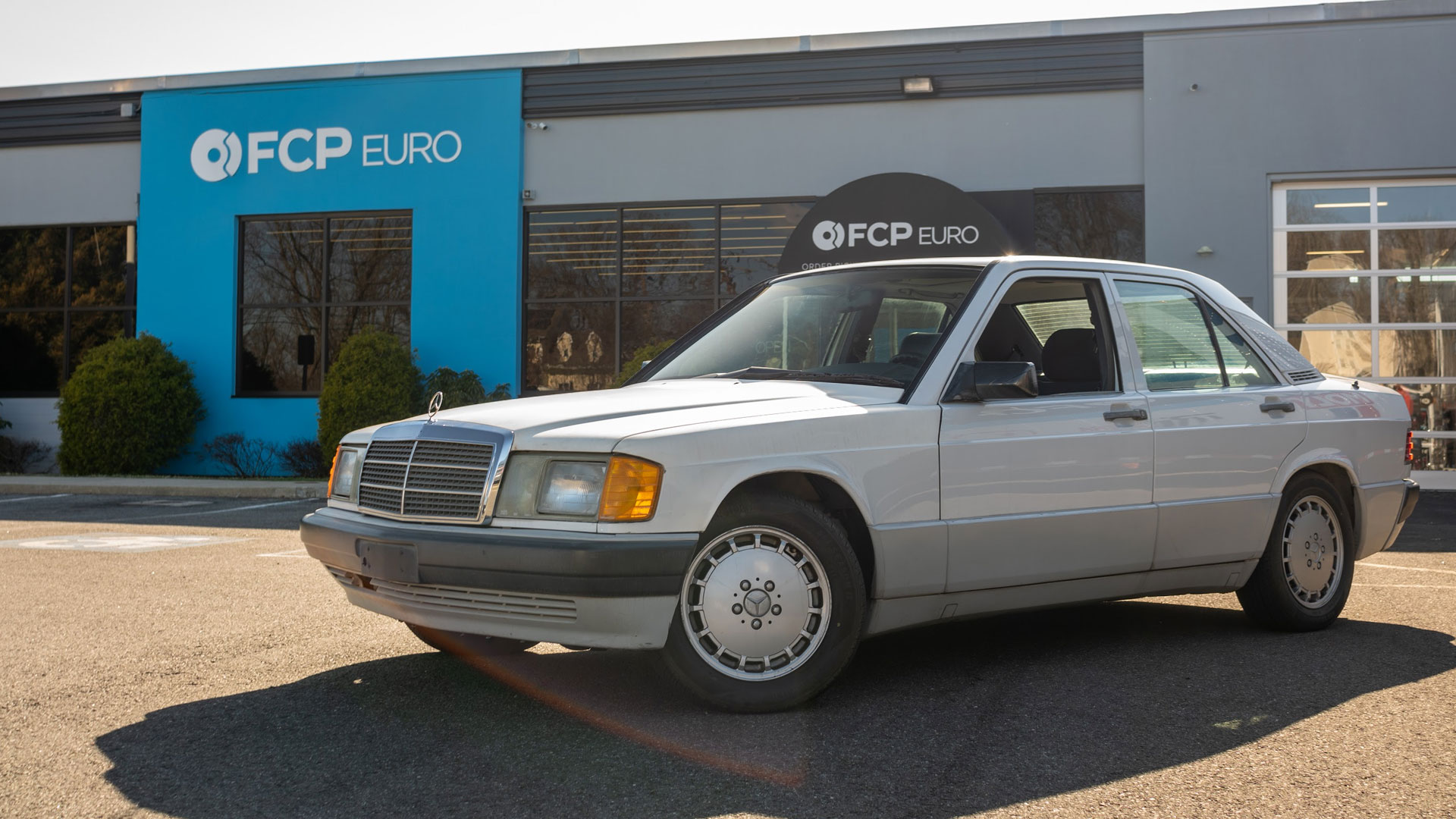 The "Golden Era," Reimagined
The "Golden Era" of DTM racing in Europe, beginning in the late-1980s and extending to the early 1990s, would go on to shape motorsport for decades to come. The cars were cutting-edge, the engineering was clever and groundbreaking, and the competition was fierce; all in vehicles that looked like your relative's daily-driver.
While the cars of competition were decades ahead of their time, you can't help but wonder what the introduction of modern technology and design would look like when applied to some of the best racecars ever made. Enter FCP Euro's 190E 2.0-16, the ultimate Evolution of the Mercedes 190E.
The Vision: "Golden Era"
"War Room Engineering" was a large part of what made DTM competition great. Specialized engineers in the back rooms of Mercedes, BMW, Ford and others spent late nights behind-the-scenes working at the very cusp of the class-mandated ruleset (and occasionally even a bit beyond) to create the fastest racecar possible, introducing engine modification, suspension geometry, and aerodynamics never before seen in a race class that was based upon street cars.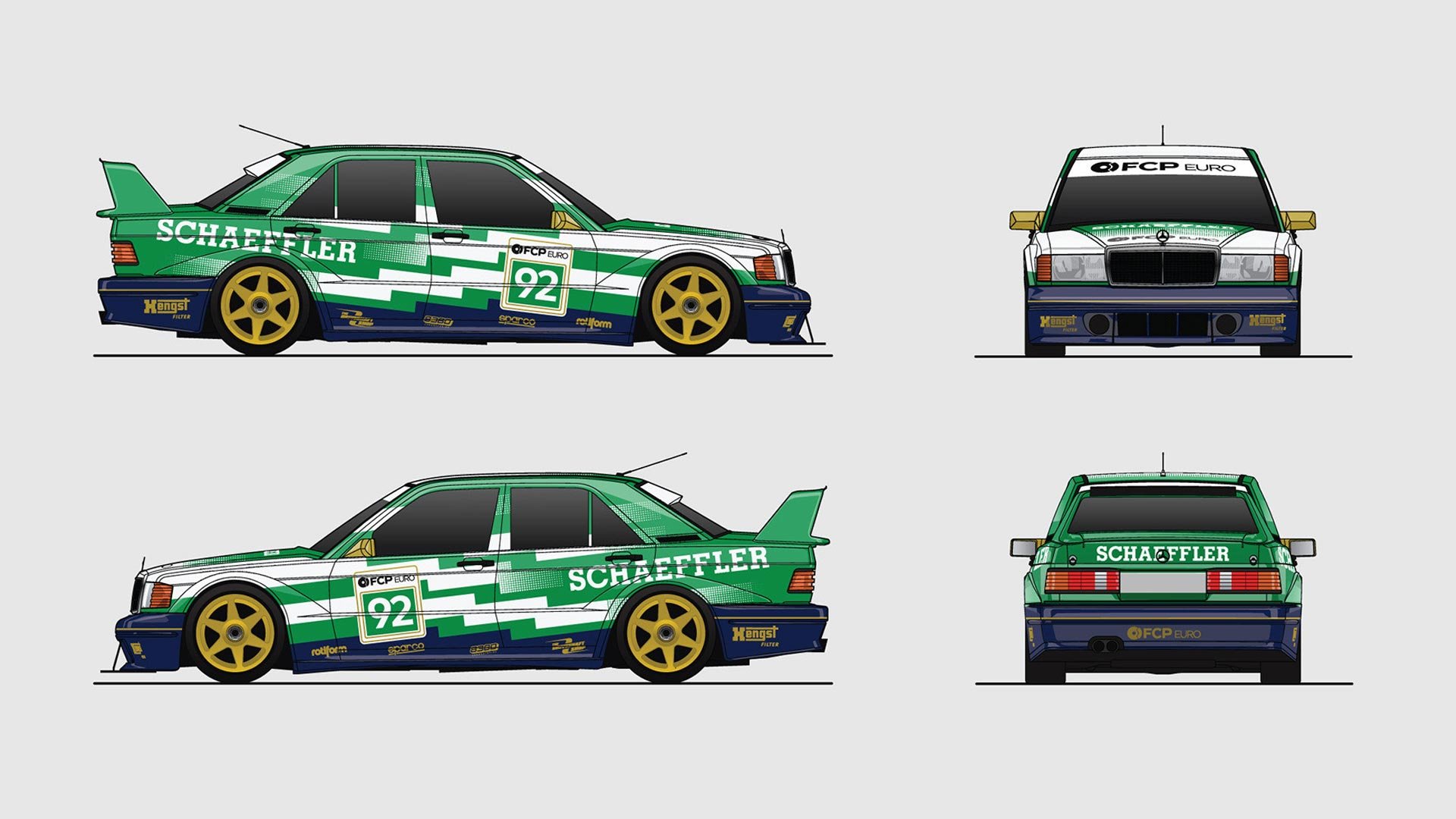 These cars truly pushed the envelope. Engines would seldom last more than a few races, and equipment could be considered a bit primitive. We began to theorize that with a modernized heart and some clever, updated engineering, we could create a proper homage to the "Golden Era" of the past capable of outperforming our hero cars on-track. We set out to do so right inside the walls of FCP Euro.
From its X156 GLA 45 AMG-sourced M133 turbocharged four-cylinder making 450 horsepower and 400 ft-lbs of torque, to its modern Mercedes 716.6 6-speed manual, to its robust and cutting-edge suspension and braking artillery courtesy of a W204-chassis Mercedes C63, our old 1987 190E received a bit of help from its ancestors, some rivals, and some incredible partners of FCP Euro to become today's ultimate depiction of the "Golden Era."
" frameborder="0" allow="accelerometer; autoplay; encrypted-media; gyroscope; picture-in-picture" allowfullscreen>
Watch the latest episode of the Golden Era.
Partnering with Schaeffler Group and Hengst Automotive, FCP Euro decided to take this classic but mundane German sedan and recreate one of the most iconic racing homologation models, the Mercedes-Benz 190E Evolution II, with modern AMG hardware. Externally it may be all 80s, but under the skin, it features the 2.0L turbocharged and direct-injected M133 heart, one of the highest output-per-liter production engines of all time. Rotiform wheels, MoTeC electronics, and many other modern appointments make this the perfect retro-modern reinvention of DTM's Golden Era.

The Build: Friends, Partners, & Parts
The 190E 2.0-16 wouldn't exist without the assistance of some incredible partners along the way; be that through the parts that make the car capable enough to be the ultimate depiction of one of the greatest periods in motorsport, or through the support needed to create a vision and execute on it.
Schaeffler's robust bearing products and maintenance equipment helped to make sure that the 190E 2.0-16 would survive its new destiny of dancing around a racetrack on a motorsport-grade racing tire, and Hengst's stellar filtration products provided the safety we needed to tax a street-focused engine with motorsport duty and relativelt little modification.
Rotiform produced some stellar period-correct wheels capable of accommodating our massive brakes, and Bilstein brought the handling dynamics of the chassis into the 21st century.
OS Giken's motorsport-quality differential will be vital to getting all 450 horsepower to the ground underneath our lightweight shell, and Garagistic's aluminum subframe bushings and power steering delete kit helped to tie the suspension and steering together.
Fabrication for a few custom one-offs came courtesy of SwoopsBuilt and allowed us to fit our M133 engine in our old shell, and JPC Fabrication and Sparco helped us to make the car rigid and safe enough for motorsport.
Karim of KARS Engineering manufactured the harness for our MoTeC management system, and RabidWraps installed our stellar period-correct livery designed by 8380 Laboratories.